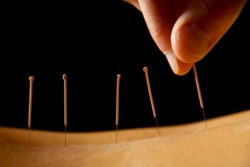 Radiance Spa is pleased to offer many different services to our valued clients. One of the most misunderstood is our acupuncture service. A large part of this is the needle element – something many are afraid of. This blog is going to share some information on acupuncture, and how it can help your overall health.
WHAT IT IS
Needles are used to stimulate
target points on and along the body. These acupuncture points are closely aligned to the nervous system and circulatory system. Each point can be manipulated in a different way depending on individual need.
Acupuncture
is done in a spa, but the setting often looks like a physician's office. The increase in medication and drug resistant super bugs has led many to find alternative means to common ailments and pain.
COMMON USE
Acupuncture is common for lower back pain. It has also found success with allergies, depression, anxiety and other pain. There are other potential treatments as well, and your professional acupuncturist is trained in the specific, targeted areas for your needs.
HOW IT WORKS
Like many things, it begins with a consultation. Expect questions about what your ailments are, and treatment will begin soon afterwards. The theory is there is a "life force," or "chi," that runs down the body in certain areas. The acupuncture needles are inserted along these lines.
The needles are very thin, about the width of a human hair, and are not deeply inserted into the skin. Most do not report any discomfort or pain.
BENEFITS
Unlike traditional medicine, there are no serious side effects to acupuncture. It is affordable and does not take time (sitting in a doctor's office all afternoon for 10 minutes).
If you think you are ready to try acupuncture, be sure to contact us at
Radiance Spa
. We will help schedule an appointment around your time and help you relax before your initial treatment. Contact us soon!